Accounting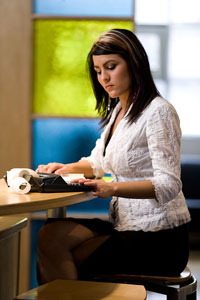 Accounting, Bookkeeping and Financial Statements

We are available to assist you with monthly bookkeeping, financial statements, bank reconciliations, accounts receivable and payable processing.  We can also help you with your Year End form 1099 processing and personal and real property tax returns.
Payroll
The WWC Business Solutions Inc Team is here to ensure that your unique payroll needs are met.
Each pay period you will receive a complete payroll package which includes payroll summaries, payroll tax liabilities and detailed instructions regarding any other items requiring your attention.  We will also assist you with your Workers Compensation reporting requirements, garnishment processing and employee benefit processing.  We will process your quarterly Federal and State tax returns as well as your annual Federal and state tax returns and W-2 processing and filing.  Multi State processing is not a problem.
Certified QuickBooks Pro Advisor
Many QuickBooks customers say that their experience with QuickBooks is better when they work closely with a QuickBooks expert.  A Certified QuickBooks ProAdvisor is typically an accountant, CPA, small business advisor or consultant who has been tested and certified on QuickBooks.  ProAdvisors help businesses customize QuickBooks for their unique needs and help them get the most out of the software.  ProAdvisors are also a great resource if you run into trouble with QuickBooks.
At WWC Business Solutions, we want to help you get the most out of your QuickBooks software.  Using the software to its fullest will help you organize and manage your business and create an easier year and end tax processing.